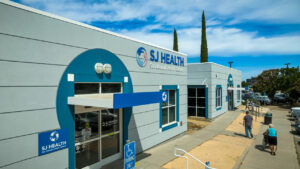 San Joaquin Health Centers (SJ Health) is a non-profit, tax-exempt organization founded and driven to improve the health of our community by providing access to high quality primary health care and support services directly and in collaboration with our community partners.  It is our belief that everyone should have access to our services, regardless of their income, their age, who they are, where they live, or where they are from.
SJ Health offers a full range of quality medical care, behavioral health, and supportive services at its fixed-site seven health center locations in French Camp, Stockton and Manteca.  It also operates a mobile clinic that especially focuses on reaching communities and patient populations facing barriers to accessing care.
While the majority of our income is derived from insurance payments and government and private grants, generous support from individuals like you is crucial to our operations and allows us to offer and expand services.